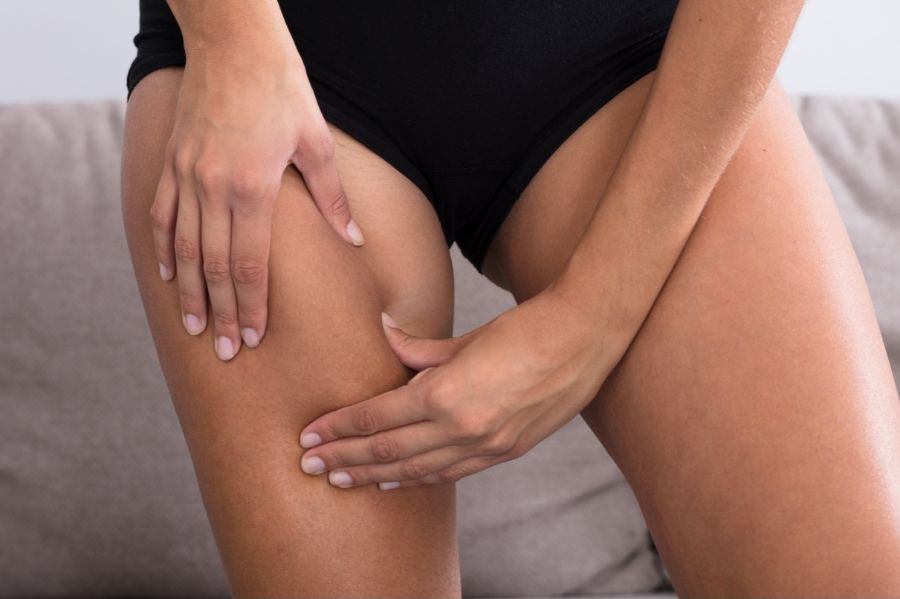 According to a recent study nearly 90% of women experience some degree of cellulite and demand for non-invasive cellulite treatments in the U.S. is expected to nearly double to over 750,000 procedures per year by 2011.
This treatment is ideal for patients who have tried diet and exercise or even other cellulite treatments without success. Now they can benefit from:
A single treatment with no surgery, injections or downtime

Smoothing of dimples and improved skin texture
By using new procedure guidelines and the ThermaTip CL treatment tip, collagen connective tissues are restored and circulation is improved to help smooth skin and reduce the appearance of cellulite.
Results vary from subtle to dramatic. Generally improvements may be immediately visible and continue to improve for up to six months. Results are long lasting and depend on your skin condition and the aging process.
The Thermage Procedure
Thermage treatments are performed in the office of Radiance Medspa. Women 35-60 normally have the best and most predictable results. If your skin is too lax, the results will not be as dramatic.

Normally, the complete procedure can be performed in just one session lasting from 20 minutes to two hours, depending on the treatment area. General anesthesia is not required.

During the treatment, you'll feel a brief, heat sensation each time Thermage delivers radiofrequency energy to the underlayer of your skin. This indicates that your collagen is being stimulated and tightened.

After treatment, your skin may be slightly red for a day or two. But most people resume regular activities immediately after treatment, with no downtime or special follow-up care.

Immediate Results: You should feel and see your skin being smoother, firmer, and tighter immediately after your Thermage treatment. You may also notice some contouring effects which will begin enhancing the shape of your face.

Continued improvement over time: After the procedure, you should continue to see improvements to your skin as a result of the production of new and increased collagen, as well as some additional contouring effects due to continued tightening over time. These effects will continue for up to six months. You should see lasting results.
From sun to wind to cold weather, your skin has bravely faced the elements. If the great outdoors has left its mark on your face as skin discoloration, rough texture, redness and broken veins and capillaries, a series of IPL Photofacials offers renewal. This laser treatment tackles spots and redness to improve skin tone while delivering the added benefits of smoother texture and reduced pore size. For best results, IPL is performed in a series of 3-5 treatments. It's ideal for the face and décolletage, but IPL can be used on virtually any area of the body in need of skin renewal, such as hands, arms, legs, and back.
Schedule your complimentary consultation today!

Original Article By Julie Ricevuto | NewBeauty. | Wouldn't it be great if all of our aesthetic concerns could be treated with a quick injection? Well, it looks like the ...
Read More

→

After years of being told there's no way to get rid of cellulite, doctors are seeing great results with Cellfina. How does it work? First, your doctor will mark your ...
Read More

→
For over a decade, Ageless Medical has set itself apart as the leading Medical Spa in South Florida area by offering the most effective, research proven non-surgical appearance enhancement and skin rejuvenation procedures in a beautiful, soothing spa environment. Find us by searching Vivace Weston, CoolSure Weston, SculpSure Weston, CoolSculpting Weston, Laser Tattoo Removal Weston, Botox Weston, Ultherapy Weston, Laser Skin Resurfacing Weston, Juvederm Weston, Laser Hair Removal Weston, CO2 Resurfacing Weston. Men's Medical Spa Services include Laser Hair Removal for Men, Botox for Men, and Coolsculpting for Men, SculpSure for Men. Top Medical Spa Weston | Top Medical Spa Weston
*Individual results may vary.
Radiance Medspa, located in Avon CT, is a leading medical spa in the greater Hartford Metro area. We've been performing Body Contouring and Body Sculpting procedures such as SculpSure, Cellfina Cellulite Treatments, and SmartLipo liposuction longer than anyone in the area, and have performed over 12000 Coolsculpting procedures to date. We are also a top provider of Fillers and Injectables, BOTOX and Juvederm, in the state of CT. Find us by searching Botox Hartford, Cellfina Hartford,CoolSculpting® Hartford, CoolMini Hartford,SculpSure Hartford, Dermal Fillers Hartford.  New medspa services include prp hair treatment in Hartford. Men's Medspa Services include Botox for Men, CoolSculpting® for Men, and prp hair restoration for men. What is QWO? Find out more about QWO Cellulite Treatment.