Now Available at Avon Location
truSculpt® flex is a personalized muscle sculpting treatment that adjusts to your fitness level, shape, and goals to strengthen, firm, and tone your muscles.
truSculpt flex is a non-surgical muscle toning and strengthening system that uses electrical muscle stimulation to trigger deep muscle contractions at high intensity. Patients undertake a painless series of treatments spaced over several weeks. The advanced Multi-Directional Stimulation technology (MDS) ensures 100 percent of the energy gets absorbed by the targeted muscles.
truSculpt flex treats up to eight separate areas simultaneously, using 16 applicators stimulating your ideal muscle targets. Unlike most muscle-flexing technology, TruSculpt can treat both front and back of the body as well as both small and large muscle groups.
How truSculpt® flex Works for Muscle Sculpting
Only truSculpt flex with Multi-Directional Stimulation (MDS) deploys a unique method of electrical muscle stimulation to target specific muscle groups using three treatment mode options replicating intensified crunch, squat and twisting actions, all while covering the largest treatment area in the body sculpting industry.

Muscle contouring is fast becoming one of the most popular aesthetic treatments for women and men. For many of us, the sculpted body doesn't come easy. No matter how much energy and time we spend in the gym lifting weights, getting that "cut" definition escapes us. That's where TruSculpt Flex can help.
This FDA-approved muscle toning and sculpting treatment for the thighs, buttocks, and abdomen has proven to deliver up to 30 percent increase in muscle mass.
If you are working toward a toned and fit body contour but have trouble areas, diet, and exercise, seem to ignore, call us for an appointment.
How Is This Different From Other Muscle Sculpting Procedures?
Faster - Up to eight areas can be treated in each 45 minute session.

Safer - The unique truControl™ technology provides safe and consistent results through targeted, selective, and customizable delivery with less energy needed.

Muscle Thickness Increase - Clinical studies have shown an average of 30% increase in muscle mass.

Minimal downtime: Because the procedure is far less invasive than a surgical facelift, the downtime is very minimal. Most people are able to return to work soon after the procedure.

Versatile - Best of all, I can personalize the treatment for different fitness levels, body shapes and goals.
No Downtime & Non-Invasive
With truSculpt flex, there is no downtime. One 45-minute session can work out up to eight areas at once. After your session, you may experience some slight muscle soreness or tenderness, but this is normal. You will still be able to resume your normal activities after your truSculpt flex treatment.
How Many Treatments Do I Need?
Your initial truSculpt treatment plan will typically consist of four to six treatments, but the frequency and rest intervals will vary from person-to-person based on your existing level of fitness, shape, and goals. Rest is also critical to help your muscles recover after a session, so we recommend that you wait between two to five days between treatments.

If you have any questions about truSculpt flex, we encourage you to call our office for a consultation and evaluation. Our professionals are experienced truSculpt flex providers that deliver the results you are seeking and provide a painless, comforting experience.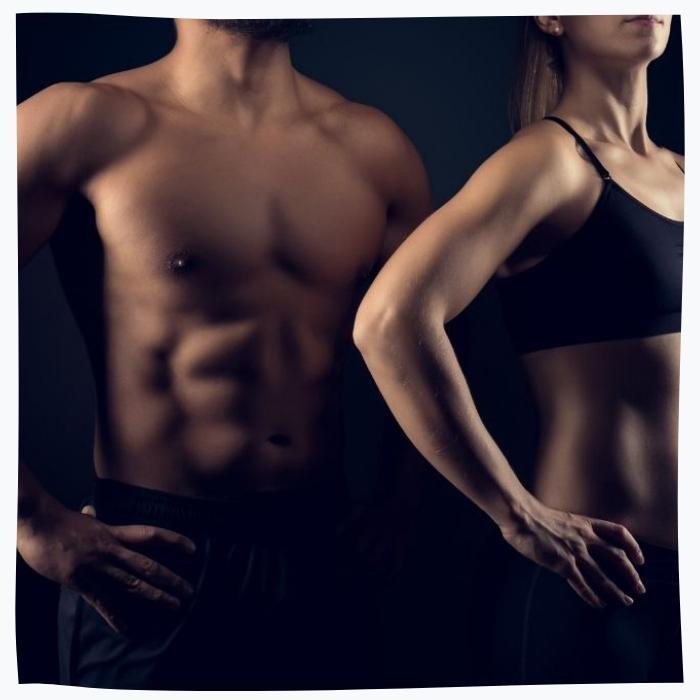 Scroll through an assortment of before and after truSculpt flex images. If you have questions to see if you are a candidate for truSculpt flex, please contact us for a free consultation.
*Individual results may vary.
Get Started!
Schedule your complimentary consultation today!
Related Videos
*Actual Radiance Medspa Client. Treatments on Stomach and Glutes. Sound Available.
Frequently Asked Questions
truSculpt flex is a personalized muscle sculpting treatment that adjusts to your fitness level, shape, and goals to strengthen, firm, and tone your muscles. The unique Multi-Directional Stimulation (MDS) technology delivers three treatment options by replicating intensified crunch, squat and twisting actions. It's the edge you need to look and feel your best.
Healthy men and women can benefit from truSculpt flex treatments. During your consultation, our provider will discuss with you if you are a candidate, based on your health and medical history.
Up to eight areas can be treated in one 45-minute session.
Initial Series of 4-6 recommended for everyone starting the program
Treatment Sessions should be spaced 2 to 5 days apart
Recommend 2 treatments per week
Do not allow more than 7 days in between treatments
Minimum 48 hours between each session
Maintenance Treatments can be performed every 2 to 3 months and as often as every month
As the treatment begins, patients feel a gentle contraction sensation and, as the intensity slowly increases, the muscle contraction intensifies but remains comfortable.
truSculpt flex is non-invasive, requires no recovery time, and patients are able to immediately return to normal activities after the treatment. Post-procedure, patients may notice tingling in the areas treated for up to a few hours and/or slight muscle soreness or tenderness for 24-72 hours.
Results may be visible after the second session with maximum results visible 8-12 weeks after the last session.
Shave the treatment area the day before or the morning before the treatment
Leave all jewelry at home
Drink plenty of water on the days of procedure
Refrain from alcoholic beverages, caffeine and fatty foods during the treatment regimen
Exercise is not recommended on the day of treatment
Pricing is based on a variety of factors, including level of fitness, target areas and desired outcome. All patients are unique which is why we offer free consultations to customize the best treatment plan for you.
*Individual results may vary.
Radiance Medspa, located in Avon CT, is a leading medical spa in the greater Avon and Hartford Metro area. We've been performing Body Contouring and Body Sculpting procedures such as SculpSure, Cellfina and Cellulite Treatments longer than anyone in the area, and have performed over 14000 Coolsculpting procedures to date. We are also a top provider of Fillers and Injectables, BOTOX and Juvederm, in the state of CT. Drug Free Acne Treatment? Ask us about AviClear Avon and AviClear Hartford. Find us by searching Botox Avon, Cellfina Avon, CoolSculpting® Avon, CoolMini Avon, SculpSure Avon, Dermal Fillers Avon. New medspa services include prp hair treatment in Avon.Men's Medspa Services include Botox for Men, CoolSculpting® for Men, and prp hair restoration for men.