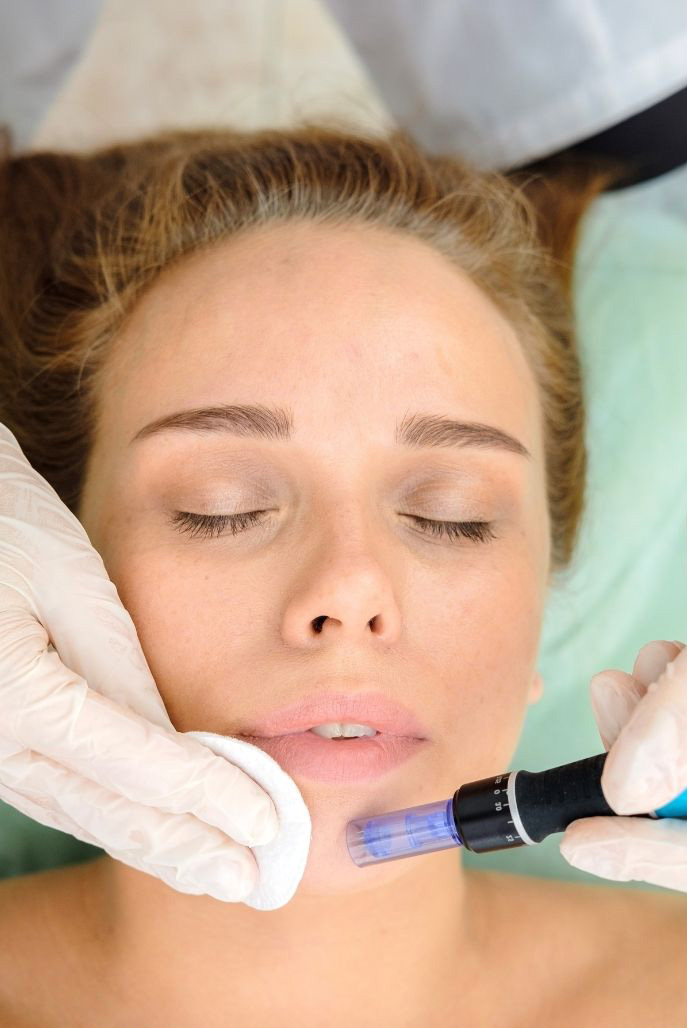 The World's Most Advanced Natural Collagen Induction Therapy System
It's a pen, but it should be called an eraser. Dermapen wipes away scars, wrinkles, large pores, stretch marks and other skin conditions.
Dermapen is the world's most advanced skin needling device that solves a variety of skin conditions including acne scarring, stretch marks, wrinkles and fine lines. Dermapen can stimulate wound healing, tightening, lifting and rejuvenation. With its small applicator for precise treatment and adjustable needle depth, Dermapen offers a superior solution to dermal roller techniques.
The science and technology behind Dermapen is based on collagen induction therapy, which builds up connective tissue of the skin's lower layers. Working on these lower dermal layers while only slightly puncturing the surface, or epidermis, encourages collagen production from the bottom up. Tissue is actually remodeled and improvement is seen almost immediately and continues for up to a year.
FREQUENTLY ASKED QUESTIONS
Dermapen can be used to lessen or remove wrinkles, fine lines, acne scars, stretch marks and other types of scarring. As a side benefit, pores are also minimized through Dermapen treatments.
Dermapen encourages collagen production deep within the skin. The handheld device punctures the top layer of skin with multiple fine needles that are directed to the exact areas that need improvement. Because it does not damage the surface skin and works directly on the lower layers, Dermapen causes skin to rejuvenate itself from the bottom up. The thin, pen-like shape of Dermapen means that hard-to-reach areas like the nose or around the lip are easy to treat.
The depth of the needling during a Dermapen treatment is adjusted based on the needs of your skin. For treatments with shorter needles, only a slight sensation will be felt – similar to a tickle. When longer needles are required, a numbing cream is applied to minimize discomfort.
There is little to no real downtime with a Dermapen treatment. Following a procedure, treated areas may be red like a sunburn. Mild swelling is usually seen for about three days. We will provide you with a special serum to apply for the first few days, but you can resume using regular skincare products by the third day following treatment. You should treat your skin gently for the next week or two, avoiding sunlight and alcohol based products.
Results from a Dermapen treatment are typically visible within anywhere from one day to a week. Clear results are experienced by four weeks, but you may continue to see improvement for up to a year. The procedure causes your body to naturally produce collagen to heal itself from the disruption caused beneath the skin. As new collagen is created below, smoother skin can be seen on the surface.
The number of Dermapen treatments you will need depends on the severity of your skin's condition. Most patients require four to six treatments to obtain the significant results available through this procedure.
Dermapen treatments are safe and effective for all skin tones and types!
Dermapen treatments lead to collagen production from the deeps layers of the skin. Combining them with a surface treatment that encourages collagen on the top layers of skin will give you even more dramatic results. Dermapen treatments can be combined with chemical peels or microdermabrasion for a total skin resurfacing.
*Individual results may vary.
Radiance Medspa, located in Avon CT, is a leading medical spa in the greater Avon and Hartford Metro area. We've been performing Body Contouring and Body Sculpting procedures such as SculpSure, Cellfina and Cellulite Treatments longer than anyone in the area, and have performed over 14000 Coolsculpting procedures to date. We are also a top provider of Fillers and Injectables, BOTOX and Juvederm, in the state of CT. Drug Free Acne Treatment? Ask us about AviClear Avon and AviClear Hartford. Find us by searching Botox Avon, Cellfina Avon, CoolSculpting® Avon, CoolMini Avon, SculpSure Avon, Dermal Fillers Avon. New medspa services include prp hair treatment in Avon.Men's Medspa Services include Botox for Men, CoolSculpting® for Men, and prp hair restoration for men.