Why we carry SkinMedica products:
SkinMedica products provide results rooted in science.
SkinMedica products contain growth factors, which help maintain the skin's elasticity.
SkinMedica products have been tested and address many issues that lead to premature aging.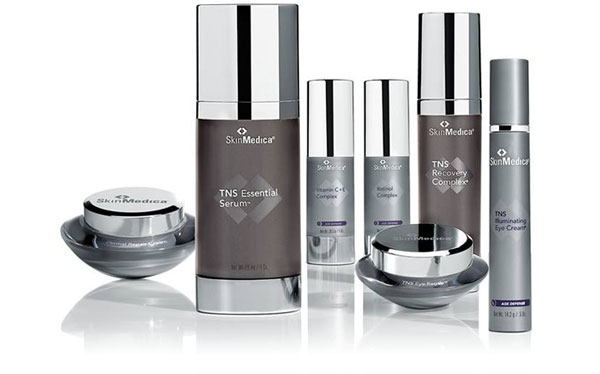 At Radiance Medspa we offer SkinMedica products including:
TNS Recovery Complex
Patented rejuvenating treatment containing a unique blend of more than 110 growth factors, antioxidants, and proteins to help rejuvenate the skin, reduce appearance of skin discoloration, and improve the appearance of fine lines and wrinkles.
TNS Essential Serum
All-in-one skin rejuvenating serum combining the benefits of TNS Recovery Complex in one chamber and APS Corrective Complex in the other to improve the appearance of fine lines and wrinkles, help smooth and brighten skin, and enhance skin texture, tone and elasticity.
Lytera 2.0 Brightening Complex
Advanced Pigment Correcting Serum formulated to address the appearance of stubborn skin discoloration; appropriate for all skin types and tones.
HA5 Rejuvenating Hydrator
A new chapter in skin hydration that works to support moisture in the skin. Unlike any other hyaluronic acid (HA) serums that only temporarily moisturize the surface, HA5 has 5 different forms of HA that work synergistically to provide instant smoothing results and continuous hydration throughout the day.
TNS Ceramide Treatment Cream
Hydrates and helps restore your skin's barrier function and balance and is appropriate for dry or post-procedure skin.
Dermal Repair Cream
Ultra rich moisturizer helps prevent moisture loss and improves skin smoothness to restore your skin's natural beauty.
Retinol Complex 0.5 / Retinol Complex 1.0
Skin renewal available in two different strengths. This exclusive retinol formula is encapsulated with PhytoShield Complex, a proprietary, advanced antioxidant complex that maximizes retinol delivery and minimizes irritation typically associated with retinoids. This product improves the appearance of overall sun damage, diminishes the appearance of fine lines and coarse wrinkles, and enhances skin tone and texture.
*Individual results may vary.
Radiance Medspa, located in Avon CT, is a leading medical spa in the greater Hartford Metro area. We've been performing Body Contouring and Body Sculpting procedures such as SculpSure, Cellfina and Cellulite Treatments longer than anyone in the area, and have performed over 12000 Coolsculpting procedures to date. We are also a top provider of Fillers and Injectables, BOTOX and Juvederm, in the state of CT. Find us by searching Botox Hartford, Cellfina Hartford,CoolSculpting® Hartford, CoolMini Hartford,SculpSure Hartford, Dermal Fillers Hartford. New medspa services include prp hair treatment in Hartford. Men's Medspa Services include Botox for Men, CoolSculpting® for Men, and prp hair restoration for men.