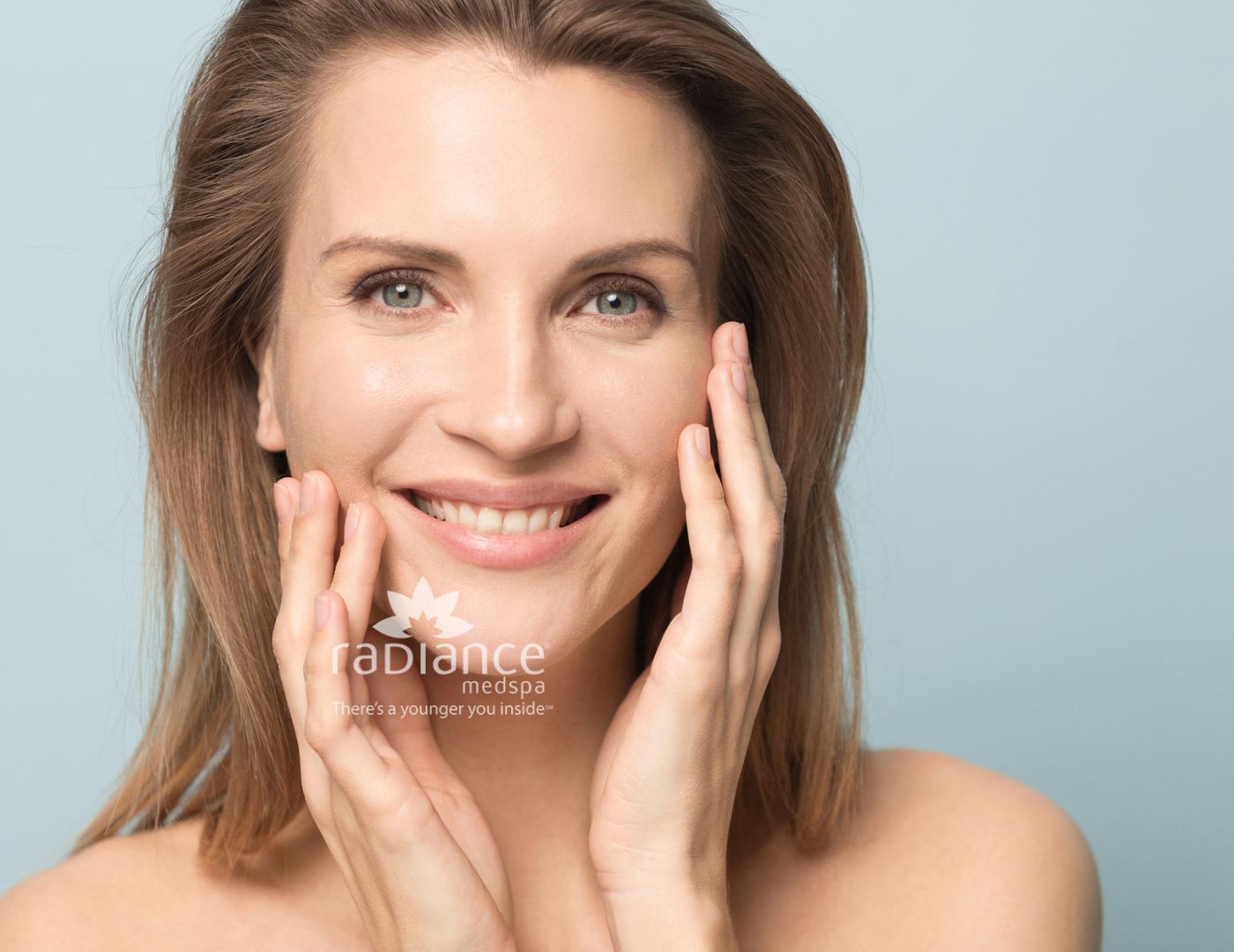 Fraxel
Hits the Spot and Removes It.
Hartford | Avon CT
Laser skin rejuvenation is one of the five most popular nonsurgical cosmetic procedures performed in the United States. The laser du jour for skin rejuvenation is Fraxel. There are four varieties including Fraxel re:fine, Fraxel re:store, Fraxel Dual and Fraxel re:pair.
The Fraxel laser treats a mere fraction of the skin's surface. In fact, only 15 to 30 percent of the skin is affected by Fraxel laser treatment. Fraxel skin rejuvenation creates tiny wounds in the deeper layer of the skin (dermis). Each wound is surrounded by untreated skin, helping to repair the treated area via a controlled wound-healing process. The epidermis remains undamaged while the deeper layer begins to heal. Old skin cells slough off and the skin gradually repairs itself, encouraging collagen regeneration.
Fraxel | Skin Resurfacing Treatment
Fraxel laser therapy is approved for a variety of rejuvenating treatments, including the shrinking of large pores. It is the first and only laser approved for treatment of melasma (the mask of pregnancy), a condition marked by brown patches on both sides of the face, including the cheeks, bridge of nose, forehead and upper lip. Fraxel therapy can be used to treat the neck, chest and hands.
A candidate for Fraxel laser rejuvenation are people who have age spots, sun damage, acne scars, wrinkles near the eye, and stretch marks. If so, you may be a great candidate.
How does Fraxel Work?
The Fraxel laser utilizes a new technology called Fractional Resurfacing. With Fractional Resurfacing Technology, only a fraction of the skin receives the laser light at one time. The Fraxel Laser delivers a series of microscopic closely spaced laser spots to the skin while simultaneously preserving normal healthy skin between the laser spots. The preservation of the healthy spots results in rapid healing of the treated area following the laser treatment. The entire face can be treated with the Fraxel Laser in approximately 45 minutes.
Fraxel for the Lips
The Fraxel Laser is a resurfacing laser that is used to restore damaged, wrinkled skin back to smooth, younger looking skin. Fraxel is typically performed on the full face to achieve even, consistent results and is done in a series of 4 treatments performed at one month intervals. Each Fraxel treatment consists of first prepping the skin with microdermabrasion, numbing the skin with topical numbing cream then performing the Fraxel treatment.

With each treatment, the Fraxel Laser thermally damages the skin so that it is replaced with brand new skin over the weeks and months that follow.

After the treatment, the skin appears red like a sunburn and mild to moderate swelling can develop. Redness and swelling (if it occurs) typically last 3-5 days. Results from Fraxel treatments begin to be apparent as soon as 3-4 weeks after the first treatment and continue to improve for up to 6 months after the fourth and final Fraxel treatment is completed. Fraxel produces skin that looks like new with fewer lines, wrinkles, spots, scars, and imperfections.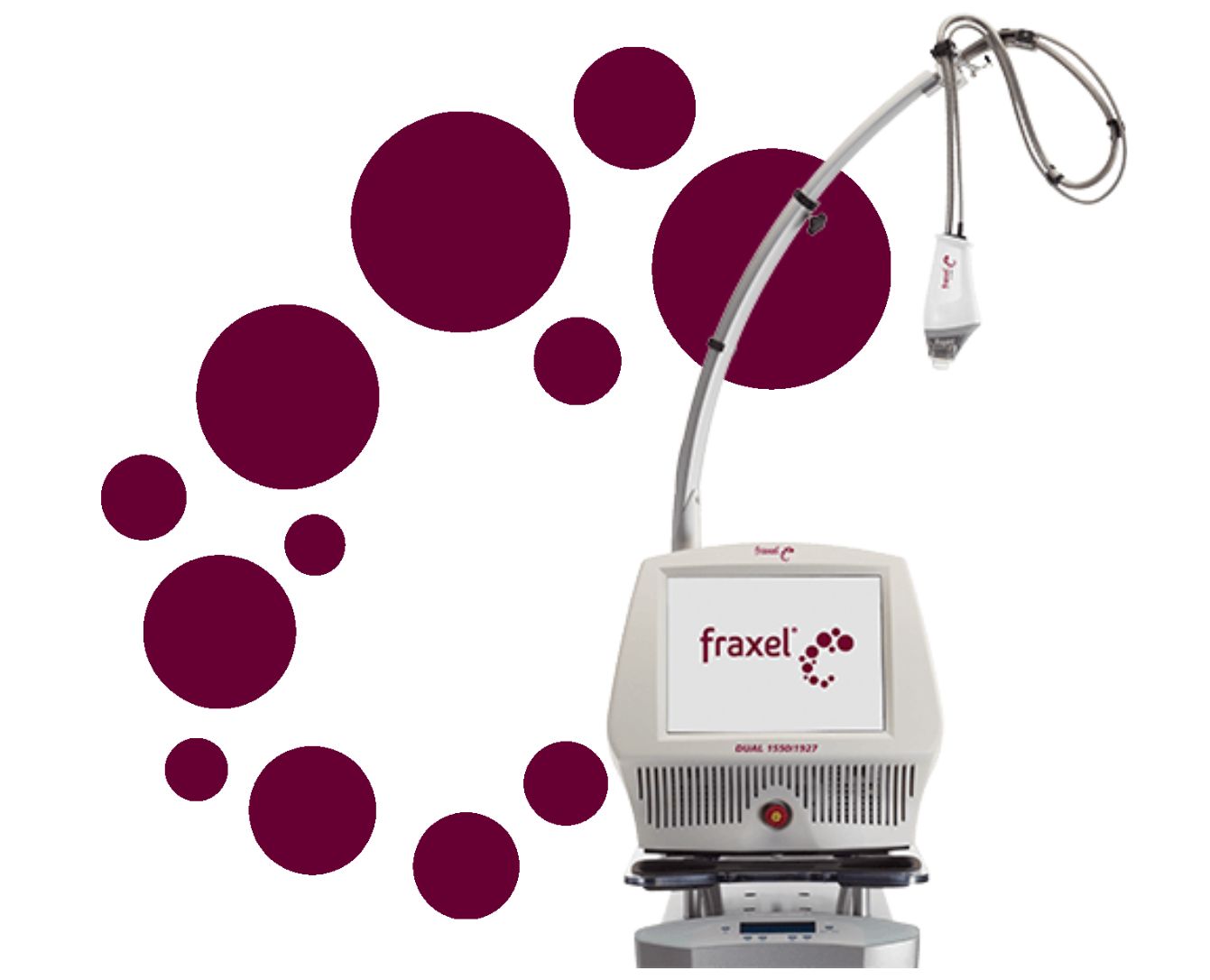 Preparing for Fraxel Laser
Our Practitioner will clean your skin, after which a topical anesthetic will be applied approximately one hour before initiating Fraxel laser treatment. When the procedure begins, you will likely feel slight pressure with each pulse of the laser. The treatment normally takes a half hour or less to complete, depending on the size of the treated area.
Following Fraxel treatment, your skin will be pink for a few days. This laser skin rejuvenation treatment involves little down-time, meaning you can go from your doctor's office right back to your office. You may feel like you have a sunburn. Some people develop a slight tan a few days after treatment. Multiple treatments are frequently necessary and are done once a month, but the exact number of Fraxel treatments needed to achieve your desired results will vary.
It's necessary to keep the skin moisturized after treatment with the Fraxel laser. Sun protection with an SPF of 30 or above is necessary after tx and should be re-applied through out the day with long periods of sun exposure and/or activity. Make up can be worn to camouflage excess pinkness that is a temporary expected result of fraxel. The full results of the 1927 wavelength, used for the treatment of sun damage can be seen in 7 days. The full results of the 1550 wavelength, used for the treatment of acne scars, crepey skin, and fine lines, can be seen after multiple treatments, at 4 week intervals. The number of treatments necessary varies from person to person and can be determined by on of our practitioners.
Frequently Asked Questions
Yes, Fraxel Restore Dual® is an excellent treatment for scars and sun damage throughout the body, and has also recently received FDA approval for the treatment of Stretch Marks, from child birth, rapid growth spurts or significant weight loss.
Yes. Immediately after treatment with the 1927 wavelength, you skin can look red and sun burned. By day three the skin becomes bronzed (especially where the darkest spots on your face are), then over the following 3 to 4 days these spots dry up and peel off, leaving your skin smooth, clear, slightly pink, healthy looking.
A topical anesthetic ointment is applied to the treatment areas approximately 60 minutes prior to treatment in order for the anesthetic to take full effect. For Fraxel Restore Dual® treatments topical anesthesia alone is usually sufficient. The procedure take between 20-25 minutes for the full face.
Until Fraxel®, there were two types of available laser treatments. Purely ablative laser treatment (CO2 and Erbium) which was very effective but had significant side effects and lengthy healing period (weeks). The other being non-ablative had zero downtime but had very little clinical effect. Fraxel Restore® treatment offers the effectiveness of older ablative treatments with the benefits of the gentler, fractionated laser technologies.
The Dual-Restore is the latest partially ablative laser in the Fraxel Family. It combines two wavelength options allowing for targeted treatment of different tissue depths. The 1927 wavelength is indicated for the treatment of hyperpigmented lesions such as melasma, sun-spots and freckles. 

It typically removes 85 to 100% of pigmented lesions and requires 1 treatment; however resistant hyperpigmentation as well as melasma may require additional treatments.
Clinical studies suggest that on average, an effective treatment regimen is 3 to 5 sessions, spaced about 2 to 4 weeks apart for Fraxel Restore®. Optimal improvement occurs for 6 months after the series of treatments is complete. This time frame and treatment structure allows for complete healing and replacement of damaged tissue with new collagen and elastin, and viable healthy skin cell growth.
Fraxel Restore® treatments can range between $400-$1400 per treatment. The range of prices depends on partial or full-face treatments, severity of condition, and the relative inclusion of other body parts such as neck and chest.
Most patients describe the treatment as having an intense "prickling" sensation. The anesthetic protocol that our Aesthetic Nurses use and Cryo-air cooling alleviates most discomfort. For those that are sensitive, we suggest ibuprofen or a stronger form of pain killer, which of course we will prescribe to you.
Yes. The Fraxel Laser is FDA approved for use in skin resurfacing. It is also FDA approved for use in the correction of pigmented lesions, such as age spots, sun spots, discolored skin, the treatment of wrinkles around the eyes and melasma.
Fraxel® Laser Treatment is the original "fractional" treatment that produces thousands of deep, tiny columns of trauma in your skin, called microthermal treatment zones. FLT is "fractional" in that it intensively treats thin columns of the skin without affecting the surrounding tissue, which reduces healing time and promotes the skin's natural process for creating new, healthier tissue. Fraxel® Restore® Dual is the non-ablative, low downtime technology.
With fractionated lasers healing time is significantly accelerated so there is minimal downtime and risk. With Fraxel Restore Dual®, at no time after treatment is the skin left raw, therefore, make-up can be worn immediately following the procedure. Some patients are able to return to routine activities, including work and social obligations, the same day of treatment. Generally there is redness and minor puffiness for 1-3 days.
Swelling and redness are the most common side effects of treatment. If swelling and redness does occur, it is minimal and will subside within two to three days for Fraxel Restore Dual®. There is minimal pain during recovery with the Dual; it can be likened to a bad sun burn for several hours. We have never seen any significant complications with either wavelength.
Fraxel Laser treatments offer rapid healing and minimal downtime. Patients typically have some swelling and redness. The swelling generally subsides in a day or so, and the redness usually fades over a few days. Patients can apply make-up shortly after their treatment and generally return to normal activity the following day.
Upon consultation, we will assess the quality and severity of your skin's problem. After a thorough history and interview, we will help you make a decision that will suite your skin type and your lifestyle issues regarding downtime and risk as well as results.
*Individual results may vary.
Radiance Medspa, located in Avon CT, is a leading medical spa in the greater Avon and Hartford Metro area. We've been performing Body Contouring and Body Sculpting procedures such as SculpSure, Cellfina and Cellulite Treatments longer than anyone in the area, and have performed over 14000 Coolsculpting procedures to date. We are also a top provider of Fillers and Injectables, BOTOX and Juvederm, in the state of CT. Drug Free Acne Treatment? Ask us about AviClear Avon and AviClear Hartford. Find us by searching Botox Avon, Cellfina Avon, CoolSculpting® Avon, CoolMini Avon, SculpSure Avon, Dermal Fillers Avon. New medspa services include prp hair treatment in Avon.Men's Medspa Services include Botox for Men, CoolSculpting® for Men, and prp hair restoration for men.