The award-winning IS CLINICAL product line incorporates natural, botanical antioxidants to heal, repair and slow down the aging process of skin.
A scientific approach combined with nutrient rich ingredients including, Vitamin C, Vitamin E, Vitamin A, Vitamin B3 and Vitamin B5, Green Tea, Grape-Seed Extract, and Centella Asiatica provide a potent protection against free radical damage and can slow down the aging process of skin. Visible results in just days. The active ingredients in IS Clinical products are pharmaceutical grade, and include an advanced serum line which offers prevention from UV and future damage, as well as a comprehensive line of facial creams, gels, serums, masques, emolliants, and balms - which rehabilitate and repair previously damaged skin to help restore that more youthful appearance.

There's a younger you inside and Radiance Medspa can help bring it out.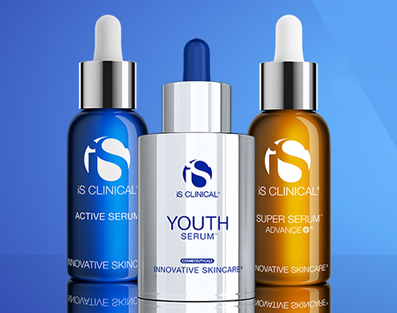 *Individual results may vary.
Radiance Medspa, located in Avon CT, is a leading medical spa in the greater Avon and Hartford Metro area. We've been performing Body Contouring and Body Sculpting procedures such as SculpSure, Cellfina and Cellulite Treatments longer than anyone in the area, and have performed over 14000 Coolsculpting procedures to date. We are also a top provider of Fillers and Injectables, BOTOX and Juvederm, in the state of CT. Drug Free Acne Treatment? Ask us about AviClear Avon and AviClear Hartford. Find us by searching Botox Avon, Cellfina Avon, CoolSculpting® Avon, CoolMini Avon, SculpSure Avon, Dermal Fillers Avon. New medspa services include prp hair treatment in Avon.Men's Medspa Services include Botox for Men, CoolSculpting® for Men, and prp hair restoration for men.