Radiance Medspa is excited to offer the Mint Thread Lift. Our staff is experienced with the thread lifting procedure and is well versed with various threads and techniques to achieve natural long lasting results. If you have reached the point where you are not getting the same results from dermal fillers or are required to use more syringes to stay in place, Mint Threads may be your solution. A mid-face treatment cost about the same as a multiple syringe dermal filler treatment and it last longer.
What is a Thread Lift?
In a thread lift, threads are inserted underneath the skin to instantly and effectively lift sagging skin. The threads are mainly used on the face and the neck, but can also be used to lift skin on the body.
The thread lifting procedure does not involve surgery. It is a minimally invasive and very safe and effective in-office procedure with little downtime—especially when performed by an experience surgeon.

How is the Thread Lifting procedure of today different that the thread lifting procedure of the past?
The newer thread lifting procedure is radically different from the older one. Because the original threads were made of permanent, nonabsorbable suture materials, once they were placed underneath the skin, they were there to stay – forever. Today's threads are completely dissolvable, meaning the body naturally breaks them down over time. These absorbable threads are better than the older threads for many reasons:
They are far safer with very low risk of infection. Bacteria don't have a permanent foreign material to live on and hide from the body's immune system. This makes the risk of infection pretty much nonexistent. Permanent sutures, on the other hand, can provide a hideout for bacteria.

They have far less chance of breakage over time.

They improve skin quality by stimulating collagen production, making the skin firmer and tighter to enhance the initial lifting results.

They provide a more natural, three-dimensional look, since they can be lifted in two directions.
Get Started!
Schedule your complimentary consultation today!
Summary of the advantages of the Thread Lift
Instant lifting: People love the instant lift of sagging skin that takes years off the face and neck.

Natural results: Natural yet noticeable results can be achieved with the thread lift. There's no worry of looking" over-pulled" or "wind-blown" as with a surgical face lift.

Non-Surgical: Since the procedure doesn't involve any cutting and incisions, it doesn't leave any permanent scars like traditional facelift surgery.

Minimal downtime: Because the procedure is far less invasive than a surgical facelift, the downtime is very minimal. Most people are able to return to work soon after the procedure.

Collagen stimulation: The threads stimulate your own skin to gradually produce more collage in the treatment areas over several months. You not only get the benefit of an instant lift, your skin also gets firmer and tighter over time!

Cost-effective: Thread lift is a very cost-effective way to achieve a more youthful appearance compared to other aesthetic procedures, like Ultherapy OR MUTLIPLE DERMAL FILLERS. RESULTS CAN LAST ANYWHERE FROM 1 TO 1.5 YEARS.

Safety: The thread lift procedure is very safe. In fact, it can be even safer than dermal fillers. Although very rare, dermal fillers have a chance of being injected into blood vessels, which can result in skin necrosis or other major side effects. Since the threads are thin, they don't have the potential to block blood flow in vessels. Also, since the procedure is done under local anesthetic, it doesn't carry the risk of general anesthesia used in a traditional surgical facelift.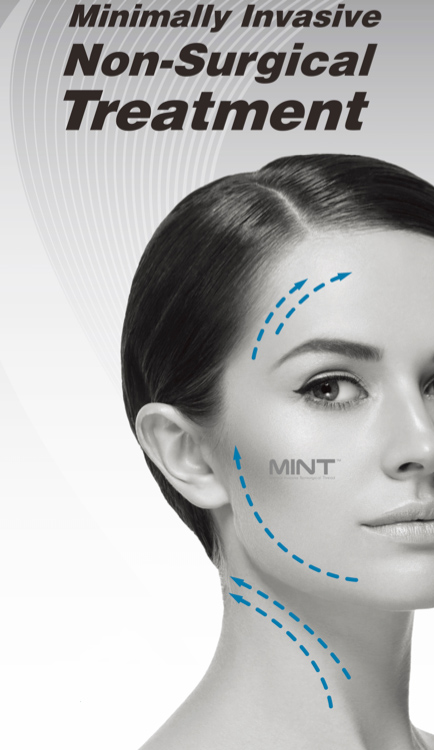 What Are The Various Types Of PDO Threads And How Are They Are Used In Thread Lifting?
As the thread lifting procedures become increasingly popular, there are more and more offices that are starting to offer this treatment. However, it can be challenging for consumers, and even medical providers, to figure out what types of threads and procedures are best. PDO threads come in various sizes, shapes and thicknesses. Knowing how to use them correctly and effectively comes with proper and continual training, skill and knowledge. Although procedures using PDO threads can seem simple, they require advanced skills to use them effectively and safely.

A successful outcome of a thread lift procedure depends both on excellent technique and the type of suture used. MINT (Minimal Invasive Nonsurgical Thread) PDO threads, with their stronger lifting power compared to other PDO threads, is the material of choice.

The MINT PDO threads were designed to most effectively perform a nonsurgical facelift by lifting up sagging skin.
Before & After
Below you will see some clients immediately after the procedure, one week out and one month out.
If you have questions to see if you are a candidate for MINT™ PDO Thread Lift, please contact us for a free consultation.
*Individual results may vary.
Frequently Asked Questions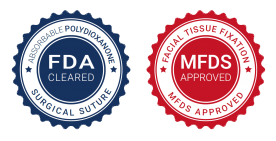 Yes. MINT PDO threads have received its 510(k) clearance from the FDA and are currently being used in many other countries worldwide. MINT PDO threads are manufactured in Hans Biomed's research facility in South Korea and shipped all over the world. They are currently used in more than 15 countries worldwide, including in Asia, Latin America and the Middle East.
Mint PDO thread lift is very versatile and can be used for many areas on the face and neck. The main areas that are lifted include:
Eyebrows
Nasolabial fold and smile lines (mid-face)
Jowls and jawline (lower face)
 Marionette lines
Chin and neck
Thread lifting is an ideal solution for both men and women with mild to moderate skin laxity and sagging skin in the face and neck. The best candidates for thread lifting are men and women 30-60+ with relatively good skin tone. Thread lifting is a great alternative for men and women who don't wish to undergo traditional face lift surgery with its long downtime, expense and potential complications, but still want to look refreshed and lifted, naturally. It's also an excellent choice for those who just want to lift their skin and not get too much volume, as with fillers. Also, it's a great choice for those who need more than just skin tightening that is achieved with aesthetic skin tightening devices.
Thread lifting is not performed on women who are pregnant or breast-feeding.
Thread lifting should not be performed on those with active skin infection or inflammation.
Patients with blood clotting disorders are not good candidate for thread lifting.
Before your procedure, to minimize bruising from the procedure, please stop all blood thinners for at least 10 days (e.g. fish oil, aspirin, ibuprofen, Vitamin E, turmeric, etc.). If you are taking blood thinners for medical conditions, please inform us before the procedure.
The treatment area is thoroughly cleaned.
Photos are taken.
A strong topical numbing cream is applied.
Oral pain analgesia (e.g. Tylenol or Vicodin) is given before the procedure, if desired.
The topical numbing cream is removed after 30 minutes and treatment area is thoroughly cleansed and prepped.
The medical provider marks the treatment area with the thread lift design to optimize the results.
Local anesthetic (Lidocaine) is injected into all the areas where the threads will be placed. This is to ensure the patient doesn't feel any pain during the thread insertions.
The threads are inserted underneath the skin in the predetermined areas.
Once all the threads are inserted, the patient sits upright to check the results and adjust the threads as needed.
Excess threads are cut off.
Arnica patchs and ice packs are applied to minimize any bruising.
Post-procedure instructions are given to the patient.
Depending on the areas treated, it takes about 30-60 minutes to insert the threads. However, the patient will be at the office for about two hours, which includes the prep, numbing and post care.
You may feel some slight stinging during the lidocaine injection. However, once all the lidocaine injections are complete, you shouldn't feel pain from the threads. Right after the threads are placed, you will feel some tightness in the treatment areas. You may have some soreness for several days to couple weeks, depending on the number and location of threads. Oral analgesic can be prescribed as needed for post-op comfort.
You will see immediate lifting of the loose skin right after the procedure. Due to the lidocaine injections, you will have some swelling. Most of the swelling should resolve in few days. There may be some mild bruising that lasts a few days to a week. You're able to wear make-up the next day. We recommend to take the next day off from normal activity though some people have gone to work the next day.
*Individual results may vary.
Radiance Medspa, located in Avon CT, is a leading medical spa in the greater Avon and Hartford Metro area. We've been performing Body Contouring and Body Sculpting procedures such as SculpSure, Cellfina and Cellulite Treatments longer than anyone in the area, and have performed over 14000 Coolsculpting procedures to date. We are also a top provider of Fillers and Injectables, BOTOX and Juvederm, in the state of CT. Drug Free Acne Treatment? Ask us about AviClear Avon and AviClear Hartford. Find us by searching Botox Avon, Cellfina Avon, CoolSculpting® Avon, CoolMini Avon, SculpSure Avon, Dermal Fillers Avon. New medspa services include prp hair treatment in Avon.Men's Medspa Services include Botox for Men, CoolSculpting® for Men, and prp hair restoration for men.