Introducing The Future of PRP: SELPHYL® PRFM
Next Generation PRP
Hartford | Avon CT
The SELPHYL®️ System converts traditional Platelet-rich Plasma (PRP) into Platelet-rich Fibrin Matrix (PRFM).⁠
What is PRP and PRFM Therapy?
Both the PRP (Platelet-rich Plasma) system and PRFM (Platelet-rich Ribrin Matrix) injection work the same way: By extracting the platelet concentration found in the bloodstream, they can be blended into a platelet concentrate that functions similarly to stem cells. By introducing these platelet growth factors into the scalp and other areas of the body, the solution can treat hair loss, and improve skin rejuvenation.
Compared to traditional PRP injections, a custom PRFM treatment will contain a higher concentration of platelet and growth factors for blood vessel repair, cellular regeneration, and new collagen formation. According to researchers, while PRP contains 5x platelets and growth factors, the same quantity of PRFM contains 10 times of these critical biological elements.
PRFM's unique platelet rich fibrin matrix also provides greater stability as the platelets are attached to the fibrin network and the growth factors get released more slowly compared to PRP. This allows you to have longer lasting results with just one PRFM treatment.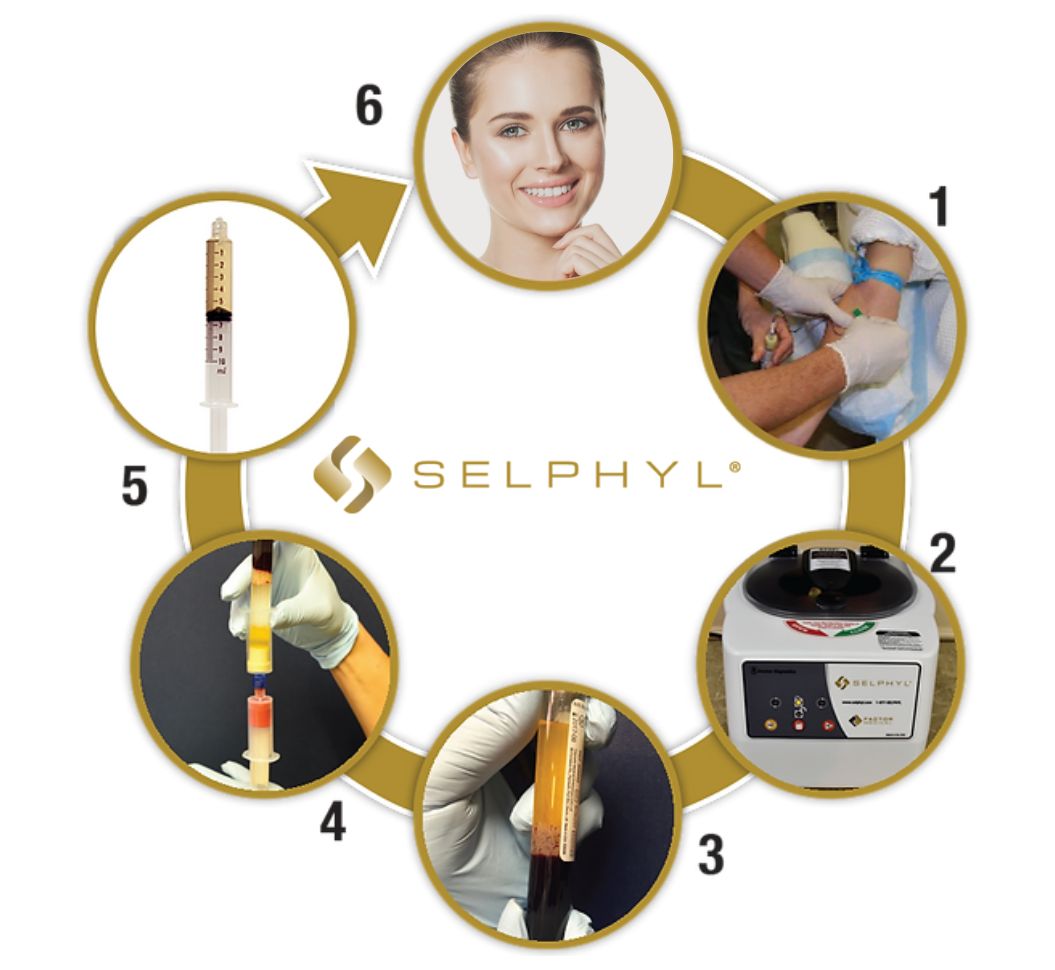 Blood flow renewal and sustained generation of new, healthy cells in the treated sites will provide you more natural looking outcomes with a PRFM treatment. Moreover, PRFM is more versatile solution for a wide range of skin and hair loss conditions, and will continue to work in the deeper skin layers to fight the aging process.
PRFM injections are more effective than PRP injections when you want to correct under-eye signs of aging, restore thicker and fuller hair growth, and achieve other facial skin rejuvenation benefits. While the skin rejuvenation benefits of platelet-rich plasma (PRP) injectable treatments are well-known, PRFM can revitalize your skin in a deeper and more sustainable way.
If you wish to keep your signs of aging such as under-eye depressions and dark circles at bay and promote healthy hair re-growth, PRFM injections provide a higher upside than traditional PRP. See our treatment that are utilizing PRFM Treatments: Microneedling and Hair Loss.
Find out if SELPHYL® PRFM is right for you.
Platelets and other components in human blood migrate to a site of injury. Platelets are known to release a variety of growth factors that respond to tissue injury, where they initiate and promote healing. By concentrating platelets at the site of injury, physicians have the potential to enhance the body's natural capacity for healing.
The Key Advantages & Benefits Include
SUSTAINED PLATELET GROWTH FACTOR RELEASE FOR DAYS

SUSTAINED PLATELET GROWTH FACTOR RELEASE FOR DAYS

OVER 150K PATIENTS TREATED

*Individual results may vary.
Radiance Medspa, located in Avon CT, is a leading medical spa in the greater Hartford Metro area. We've been performing Body Contouring and Body Sculpting procedures such as SculpSure, Cellfina and Cellulite Treatments longer than anyone in the area, and have performed over 12000 Coolsculpting procedures to date. We are also a top provider of Fillers and Injectables, BOTOX and Juvederm, in the state of CT. Find us by searching Botox Hartford, Cellfina Hartford,CoolSculpting® Hartford, CoolMini Hartford,SculpSure Hartford, Dermal Fillers Hartford. New medspa services include prp hair treatment in Hartford. Men's Medspa Services include Botox for Men, CoolSculpting® for Men, and prp hair restoration for men.