Cryofacial/CryoSlimming®
Now Available in Hartford | Avon CT
What is it and how does it work?
A Cryofacial is a non-invasive technique that uses super cool hand pieces to lower the temperature of the skin on the face, neck and chest. The cold temperature causes your skin to tighten, which helps fill in wrinkles and fine lines. It only takes a matter of minutes to complete the process, and results are quickly visible.
CryoFacials use cold temperatures to increase blood flow and oxygen, which helps to reduce the signs of aging while also providing brightening, contouring, and lifting. The facial is not painful, and many people say that it is relaxing. The result is a more even toned, youthful appearance without the use of injections and expensive facial creams. There is no downtime after the procedure.
Areas: Face, Neck
CryoFacial Benefits: Tightening Pores, Diminishing The Appearance Of Wrinkles, Soothing Inflammation And Puffiness, Brightening The Under-Eye Area
Frequently Asked Questions
After one professional treatment, results are pretty immediate and may even peak over the course of a couple of days, tapering out at the one-week mark or so. To see longer-lasting benefits, you'll have to keep up with regular treatments for at least a few months.
There's no hard and fast rule on this, but most spas that offer cryofacials recommend starting strong with 5-10 treatments in the first month, then following with maintenance appointments once or twice a month. It's a good timeline for at-home cryofacials, too.
They do! In fact, a study on mice found that oil glands in the skin actually minimize oil production when exposed to a temperature of about 18 degrees Fahrenheit. Cold temperatures also reduce inflammation and redness, which of course, go hand-in-hand with acne.
The simple answer is yes; cryofacials are safe for healthy individuals. It's worth noting that in 2015, the FDA released a consumer update on whole body cryotherapy, which indicated risks of oxygen deficiency, frostbite, and eye injury. But in the case of cryofacial treatments, where your eyes are protected and an esthetician continuously moves the wand over only the face and neck, these concerns are not as relevant. Still, you should always make sure the person treating you is a trained professional, and consult your primary doctor if you are pregnant or have any underlying medical conditions such as respiratory issues, cardiovascular issues, or anemia. And if you have any skin conditions, like rosacea or atopic dermatitis, you would do well to check with a dermatologist first, as sometimes cold temperatures can be aggravating.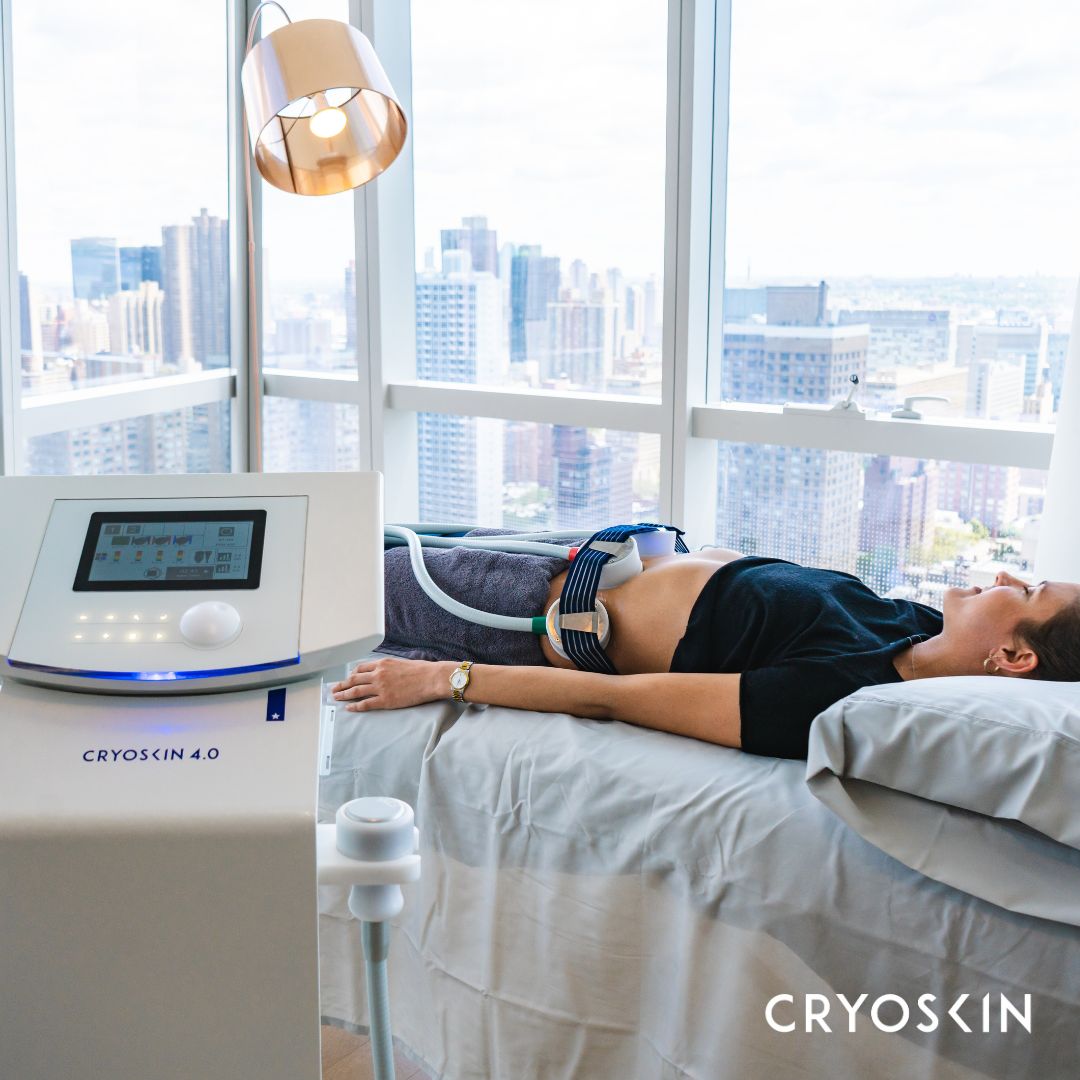 Scroll through an assortment of before and after CRYOfacial & CryoSlimming images. If you have questions to see if you are a candidate for CRYOfacial and/or CryoSlimming, please contact us for a free consultation.
*Individual results may vary.
Find out if CRYOfacial is right for you.
Frequently Asked Questions
For most clients a treatment programme of 5 sessions, performed once every two weeks, is recommended for best results. Most clients see results from the first session, but sustainable change tends to become most prominent around the third and fourth sessions.
Results may be permanent, so long as you keep up a balanced diet and lifestyle. However, as we all fall off the wagon sometimes, we would recommend scheduling maintenance sessions at least once every six months, or as needed depending on your treatment area.
Ideal candidates for the CryoSlimming treatment include anyone looking to treat stubborn areas of excess fat that are not improved through diet and exercise alone. Our brand ethos fully supports and encourages a healthy lifestyle alongside any of our treatments to reap the full benefits.
The treatment starts and ends with a warming sequence using the Cryostar wand for increased circulation, while the cold sequence feels like a deep tissue ice massage. Most clients report that the treatment is comfortable and in many cases quite enjoyable!
CryoSlimming is not an alternative to diet and exercise, instead we see it as the secret weapon in any wellness programme. In order to achieve the best possible results, it is encouraged to increase water intake during any CryoSlimming programme. It is also suggested that CryoSlimming clients eliminate refined sugars as much as possible.
CryoSlimming is a completely natural and non-invasive modality. While other fat freezing modalities incorporate suction which can be damaging to skin elasticity, the alternation between heat and cold during a CryoSlimming treatment actually has an ancillary toning benefit which helps to produce collagen and elastin in the skin.
*Individual results may vary.
Radiance Medspa, located in Avon CT, is a leading medical spa in the greater Hartford Metro area. We've been performing Body Contouring and Body Sculpting procedures such as SculpSure, Cellfina and Cellulite Treatments longer than anyone in the area, and have performed over 12000 Coolsculpting procedures to date. We are also a top provider of Fillers and Injectables, BOTOX and Juvederm, in the state of CT. Find us by searching Botox Hartford, Cellfina Hartford,CoolSculpting® Hartford, CoolMini Hartford,SculpSure Hartford, Dermal Fillers Hartford. New medspa services include prp hair treatment in Hartford. Men's Medspa Services include Botox for Men, CoolSculpting® for Men, and prp hair restoration for men.